"R" Place Restaurant Menu
Try one of our meals prepared fresh for you!
AWESOME OMELETTES
Made with three fresh eggs* and served with hash browns and choice of toast.
California Omelette
Stuffed with avocado, tomato, cheddar cheese and green chile sour cream sauce.
New York Omelette
Stuffed with bacon, onions, green peppers, chopped tomatoes, mushrooms, spinach and lots of New York cheddar cheese.
Healthy Choice Omelette
Cholesterol-free eggs* whipped up with green peppers, onions, mushrooms, tomatoes and spinach. Includes an English muffin and fresh fruit instead of hash browns.
Ham & Cheddar Omelette
Diced ham and cheddar cheese folded inside a fluffy omelette.
Denver Omelette
Classic omelette! Loaded with diced ham, cheddar cheese, green peppers and onions.
Texas French Toast Combo
Thick Texas toast dipped in egg, flavored with vanilla and cinnamon, served hot off the griddle with a side of bacon.
Texas French Toast
Three or two slices.
Classic Biscuits & Gravy
Our famous buttermilk biscuits fresh out of the oven and smothered with rich country gravy and thick chunks of sausage. Small or Large.
Pancake Combo
Pancakes, two eggs* cooked to order with choice of bacon or sausage links. Full or Short Stack Pancakes.
RPlace Combo Skillet  
Diced ham, mushrooms, onions and blend of cheeses. Finished with two eggs* cooked to order and served with hash browns and choice of toast.
Corned Beef Hash Platter  
Two eggs, your way, served with a generous helping of piping hot corned beef hash. Served with hash browns and choice of toast.
Papa Bear Breakfast 
Satisfy your Papa Bear appetite with two fresh eggs*, hash browns, choice of bacon or sausage and a fresh buttermilk biscuit ladled with gravy. 
Butt Steak & Eggs  
Treat yourself to this belt-buster breakfast of a sizzlin' 7 oz. butt steak* served up tender and juicy with two fresh eggs*. Served with hash browns and choice of toast.
Egg Combo  
Two large eggs* cooked to order. Add bacon, sausage links or patties. Served with hash browns and choice of toast.
TOAST CHOICES:
White, wheat, rye, sourdough, Texas toast or buttermilk biscuit
Beer-Battered Onion Rings
Crispy rings made with sweet Spanish onions, dipped in our special premium beer batter and perfectly deep fried.
Golden Mushrooms
Plump delicious fried mushrooms served with ranch dressing.
Mac & Cheese Bites
We've made your favorite comfort food into an awesome appetizer! Real macaroni and cheese battered and fried.
"R" Mozzarella Sticks
So good we put our name on them! This classic is made with authentic Wisconsin cheese dipped in garlic butter breading and presented with marinara sauce.
DINNER ENTREES
All dinner entreés include a side salad.
Pot Roast
Slow braised, shredded tender beef simmered in au jus served with mashed potatoes.
Chicken Pot Pie
Our made-from-scratch pot pie is loaded with chunks of chicken and a medley of fresh vegetables, all blended into a creamy filling and topped with a flaky crust.
Chicken Fingers
Only the best for our guests! We use fresh chicken tenderloins, hand battered and flash-fried. Pick your favorite dipping sauce: BBQ, honey-mustard or ranch. Served with choice of potato.
Fried Chicken
Fresh chicken hand-dipped in our special batter, fried to a golden brown. Served with choice of potato. Half or Quarter chicken. All white meat for an extra charge. Please allow extra time for 'R' fresh fried chicken.
Pub Fried Icelandic Cod
Dig into this plate of battered Icelandic cod fried in an English style batter. Offered with tartar sauce and lemon. Served with choice of potato.
Spaghetti & Meatballs
Comfort food at it's best! A big plate of steaming spaghetti topped with our homemade meatballs seasoned with garlic and Italian herbs, lavished with marinara sauce. Served with garlic bread.
Atlantic Salmon Fillet
A flaky Atlantic salmon fillet. Served with choice of potato.
Rib Eye Steak 12 oz.
Our chargrilled hand-cut rib eye steak* nicely marbled for the ultimate in rich beef flavor. Served with choice of potato.
Kansas City Country Fried Steak
Lightly breaded and fried crispy then ladled with country gravy. Served with mashed potatoes.
R Special Salad
A chopped salad of mixed greens tossed with sliced apples, dried craisins, chopped walnuts and crumbles of bleu cheese tossed in a light balsamic vinaigrette and finished with a char-grilled chicken breast.
Chicken Caesar Salad
Grilled chicken, chopped romaine, grated parmesan and homemade croutons tossed in a creamy Caesar dressing.
BURGERS
All burgers* are USDA Choice 8oz. fresh, hand-pattied ground chuck on a homemade bun. Substitute a grilled chicken breast at no additional charge. Accompanied by French fries, pickles, lettuce and tomatoes.
The All American "R"
Most popular half-pound burger* topped with American cheese.
Bacon Cheeseburger
A classic burger* topped with premium bacon and American cheese. Add mushrooms or onions for an additional cost. 
007 Burger
Our secret agent 007 sauce gives this half-pound burger* it's great taste! We top this half-pounder with strips of bacon and Swiss cheese.
Charles' Fav Cheesy Cheeseburger
Half-pound burger* smothered with thick slices of cheddar, provolone and Monterey Jack cheeses.
Pork-T
Fried pork tenderloin served on a toasted bun. Includes fries.
R French Dip
Thin slices superb roast beef stacked on French bread. Served with hot au jus, fries and pepperoncini.
Butcher Style Reuben
Tender, juicy, slow roasted corned beef piled on marble rye with sauerkraut and Swiss cheese, grilled to perfection. Served with fries and creamy horseradish sauce.
Chicken BLT Wrap
Seasoned chicken breast, Jack & cheddar cheeses, bacon, lettuce and tomato in a warm tortilla. Served with fries and ranch dressing.
Famous Chit Chat Chicken 
You won't stop talkin' about how good this chick is! A tasty breaded chicken breast hot from the fryer loaded with crisp slices of bacon, melted Swiss, lettuce and tomato. Served with fries.
JUST FOR KIDS
For our little guests 12 years and younger.  Add kids soft drink for an additional cost.
Chicken Nuggets with fries and applesauce.
Macaroni & Cheese Bites with fries and applesauce.
The Smokey Burger with fries and applesauce.
Grilled Cheese with fries and applesauce.
Spaghetti And Meatballs
Egg, Bacon & Toast
French Toast & Bacon Strip
Pigs in a Blanket with two sausage links wrapped in pancakes.
Pepsi
Diet Pepsi
Mountain Dew
Dr. Pepper
Mist Twist
Hot Tea - Green, Decaf, Earl Grey, Chamomile,
Coffee - Regular or Decaf
Lemonade
Iced Tea (sweet)
Iced Tea (unsweet)
Milk Small/Large
Orange Juice Small/Large
Apple Juice Small/Large
Vanilla Milkshake
Chocolate Milkshake
Strawberry Milkshake
*These items are cooked to order and contain or may contain raw or undercooked ingredients.  Consuming raw or undercooked meats, poultry, seafood, shellfish or eggs may increase your risk of foodborne illness. +See soup and salad bar for calorie information  


Prices subject to change without warning.
R Place Fresh Bakery and Pastries
"R" made from scratch bakery uses the finest ingredients. "R" bakers work around the clock to make sure our customers get the freshest products. The wide variety of baked goods is so tremendous it is almost overwhelming for customers to choose which product they want. Our products include fresh baked breads and rolls, flaky pastries, fruit and cream pies, made to order cakes, specialty cakes, cupcakes, special orders and cookies. Once your tried "R" Bakery, we're sure you'll be back for more!
"R" Famous Pastries
People drive for miles to pick up "R" made from scratch pastries. It doesn't seem to matter how many we make, these pastries sell out daily!
Strawberry Puff Pillows – Flakey pastry filed with loads of homemade whipped cream & fresh strawberries, topped with a sugar coated pastry, whipped cream and a cherry.

Chocolate Éclair – Scrumptious homemade bakery shell pumped full of custard then iced with decedent fudge & drizzled with white icing.

Cream Horns – Delicious flakey pastry rolled into a horn, filled with "R" homemade whipped cream and dusted in sugar coating.

Cream Puffs – Pate a Choux dough baked to perfection filled with custard, homemade whipped cream and sprinkled with powdered sugar.
Fruit Squares – "R" buttery pie crust filled with cherries or apples topped with a vanilla glaze.

Brownies – A chocolate lover dream! Moist and gooey filled with walnuts & topped with fudge.

Turtle Brownies – "R" moist brownie topped with sweet cream cheese filling, pecans, chocolate and caramel.

Carrot Squares – "R" Delicious made from scratch carrot cake with cream cheese frosting. Perfect size to curb that sweet craving!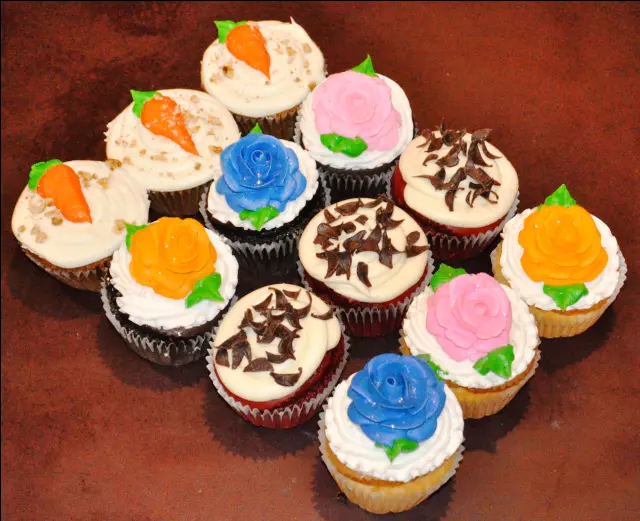 Different pastry platter
"R" Cupcakes
Mixed cupcakes
They're Small, They're Sweet, A perfect anytime treat! From simple to fancy – There's a cupcake for any occasion!

Iced Cupcakes – A 3½ inch cupcake, in yellow, chocolate or white frosted with "R" homemade vanilla or chocolate butter cream icing. You pick the decoration or have them decorated for the season.

Carrot Cake Cupcakes – A cupcake version of "R" famous made from scratch carrot cake. Topped with sweetened cream cheese frosting and decorated with a butter cream carrot.

Red Velvet Cupcakes – A rich red velvet cupcake topped with sweet cream cheese frosting and chocolate curls. "R" version of the red velvet recipe will surely satisfy your sweet tooth!
"R" Cookies
All of our cookies are made from scratch, just like mom used to make! Warning: THESE COOKIES ARE HUGE!!
-Chocolate Chip
-M&M
-Sugar
-Peanut Butter
-Decorated Sugar Cookies
"R" Sugar Cookie – frosted with vanilla icing and decorated to order
-Double Chocolate Cookies
"R" chocolate cookie flavored just right, and then covered with fudge. A chocolate overload!
Croissants – Buttery pastry with tons of layers, perfect for breakfast.

Donuts – A large selection from plain cake to filled bismarks and long johns.

Cinnamon Rolls – Soft sweet dough, rolled in cinnamon and sugar, then baked to perfection. Smothered with cream cheese frosting. Enough for two but you won't want to share.

Pecan Rolls – "R" soft sweet dough baked just right and loaded with pecans and caramel.
Danish – Delicious buttery pastry, loaded with assorted fruit, drizzled with vanilla icing.

Coffee Cake – "R" version of this old fashioned cake. Loaded with walnuts & cinnamon sugar.

Muffins – "R" sweet batter flavored with a different fruit daily.

Fruit Bread – Same batter as the muffins, but made as a loaf.
Breads and Buns
Baking bread as delicious as this is as satisfying to the bakers' heart as it is to your palate. We make our bread the old fashioned way, with no preservatives. "R" bread is so good, that we use it in "R" kitchen, as well as sell it by the loaf!
-White Bread
-Wheat Bread
-Marble Rye Bread
-Cinnamon Raisin
-Sourdough
-French Toast
-Hamburger Buns
-Dinner Rolls
-French Rolls
"R" Homemade Pies
We start out with a buttery flaky crust and load "R" with filling. Then we pop them in the oven and bake them golden brown. A delight for all pie lovers!

Fruit Pies: Apple, Blueberry, Cherry, Peach or Dutch Apple
Cream Pies: Chocolate, Banana, Coconut, Lemon and Peanut Butter
"R" Cakes
Our custom made cakes can be decorated for any occasion. For birthdays, retirements, baby showers, or just brightening someone's day, our decorators can create a cake to make anyone happy.  Our cakes are made with yellow, devil's food or white, then iced and filled with our made from scratch butter cream, chocolate butter cream, fudge or whipped cream or cream cheese icing. Each consists of multiple layers of cake. Fresh fruit and jam fillings are available.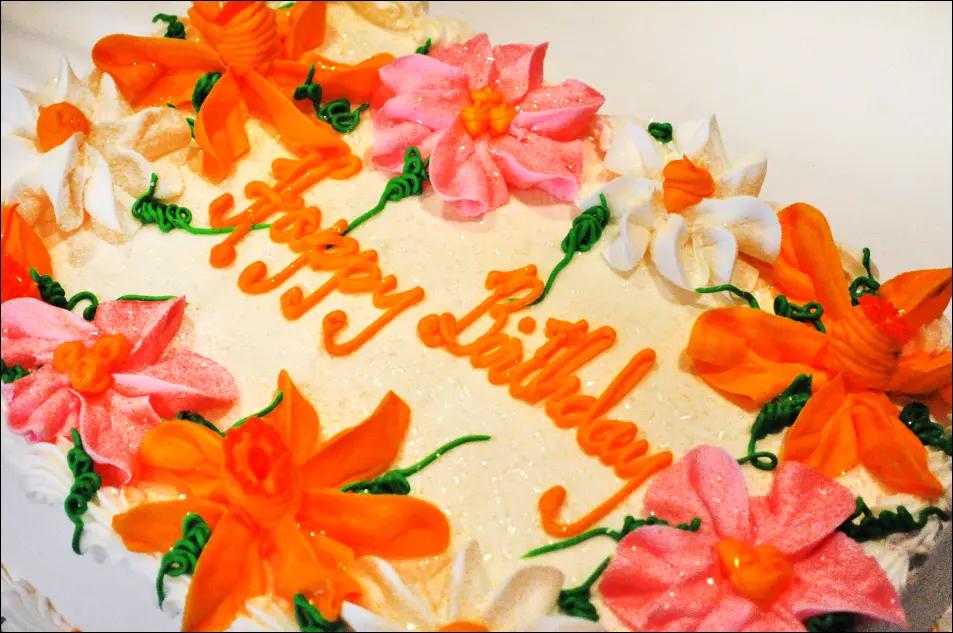 | Size | Serves | Prices |
| --- | --- | --- |
| 8" Round | 12 | $26.99 |
| 8" Atomic | 12 | $30.99 |
| 10" Round | 20 | $33.99 |
| 10" Atomic | 20 | $38.99 |
| 1/4 Sheet | 25 | $37.99 |
| 1/4 Sheet Atomic | 30 | $43.99 |
| 1/2 Sheet | 50 | $59.99 |
| 1/2 Sheet Atomic | 60 | $67.99 |
| Full Sheet | 100 | $89.99 |
| Full Sheet Atomic | 110 | $109.99 |
"R" Atomic cakes consist of 3 moist layers of white, yellow and chocolate cake layered with the icing of your choice, fresh strawberries, bananas and pineapple.

Prices subject to change without notice.
R Place Premium Ethyl Burger Challenge
The Premium Ethyl Burger was created in 1987. R-Place wanted to offer the ultimate challenge for burger lovers. Ethyl got her name from the gasoline standard oil sold many years ago, Premium and Ethyl. She became the Premium Ethyl Special. She is 2 LBS of fresh hamburger, a 1 LB hamburger bun and 1 LB of fixins. Many people have tried, some survive, but most have died. Don't be discouraged because 1 in 10 survive. The record was from a man who ate it in 7 minutes. A young girl that was 13 ate it in 55 minutes. If you're not up for the challenge, you can bring in your family and share it. We also take pictures to capture the event.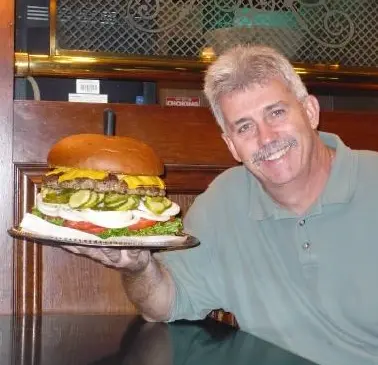 Ethyl Rules
The burger must be eaten within one hour.
The challenger may not leave the table during the one-hour period.
If any friend, enemy, etc. helps to eat one little morsel, the challenger is disqualified.
The "Ethyl" consists of bun, burger, cheese and two of the following topping: lettuce, tomato, pickles or onion.
This is a fun, personal, one-on-one challenge – You versus Ethyl.
We respect your honesty and integrity in attempting to eat Harry's #4 Premium Ethyl Burger.
Enjoy the challenge of the Premium Ethyl!
GOOD LUCK!!