R Place Restaurant & Eatery
Welcome to R-Place Family Eatery
Great food, terrific service and an interesting & unique atmosphere! We've got something for everyone, so check out what we're cooking up today... 
25% Off In Uniform
All day, everyday! Firefighters, Police Officers & Active Military can join us in uniform and receive 25% off their bill at RPlace Restaurant!
10% off every day for seniors!
We invite our seniors to dine with us and save 10% off their bill at RPlace Restaurant everyday!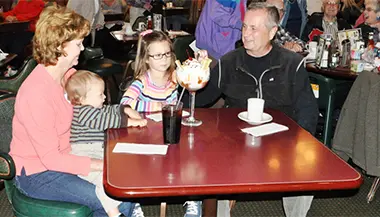 Welcome to R-Place Family Eatery!
R-Place Restaurant opened in 1967 as the Chuck Wagon, with 100 seats. Coffee was 10 cents a cup and everyone ate hamburgers and fried chicken. Over the years it evolved into a destination restaurant for the travelers, truck drivers and the local community.
In 1987, with all the new restaurants concepts being built, we decided to build a more unique restaurant with antique toy displays, including a wonderful puppet show for all to enjoy. The name was then changed to R-Place. With our Concept being that R-Place was their place. In addition to R-Unique atmosphere, R-Place has strived to serve the finest homemade food. It offers a unique salad bar with many homemade salads and muffins. We offer a large menu to meet everyone's needs and also specials that change every day so the customer has something to look forward to when they come to visit. Over the years, we also became known for our in-house bakery. Our bakery creates everything from our homemade breads, fresh flaky pastries, made to order to cakes and a wide variety baked goods. People make special trips when they are traveling to make sure they have time to pick up one of their favorite things. Our newest addition is the catering department. Customers can create a menu that meets their needs. We cater to weddings, showers, birthday parties, corporate functions, graduation parties or any event that you would need. Let R-Place cater for you! In 2007, Travel Centers of America purchased R-Place from the Romines Family. They continue to operate the restaurant with the same great food, service and atmosphere.
R Place Restaurant
21 Romines Drive
Morris, IL 60450
R-Place Restaurant is ADA Compliant & ADA Accessible

Payment Options
-Visa
-Master Card
-Discover
-American Express
-Debit