You Break Down. We Show Up.
24-Hour Emergency Roadside Assistance for Commercial Trucks
Click Here To Submit an Emergency Request
At  TA Truck Service Roadside Assistance, we understand the importance of uptime. A breakdown can result in delayed loads, missed opportunities and decreased profits. That's why our agents are prepared to connect you with an experienced roadside technician from our Emergency Roadside Assistance network or qualified third-party providers to get your vehicle up and running, 24 hours a day, seven days a week, 365 days a year.
Emergency Roadside Assistance is the one and only call needed anytime and anywhere a breakdown occurs.
1-800-824-SHOP
Our full scope of services includes, but is not limited to:
Full mechanical
Electrical
Tire services (all brands, including new, used and retread)
Out of fuel
Jump starts
Roadside diagnostics
Brakes
Trailer repairs
Air leaks
Belts and hoses
Liftgates
All backed by our Nationwide Limited Warranty, which applies to repairs performed at TA Truck Service facilities and by third-party providers.
Billing
TA Truck Service Emergency Roadside Assistance is committed to providing every single customer with outstanding service at competitive rates, day or night.
There are no membership fees, no contracts and no questions associated with your Emergency Roadside Assistance service vehicle roadside repair. We offer a centralized billing process with no surprises. Whether you receive service from an Emergency Roadside Assistance service vehicle or one of our third-party providers, the process is always transparent, from dispatch to billing.
We accept all major National Tire Accounts and industry payment types.
Access
American Express
Comcheck
Comdata Cash Card
Discover
EFS
Fleet One
Master Card/Visa
TCH
T-Check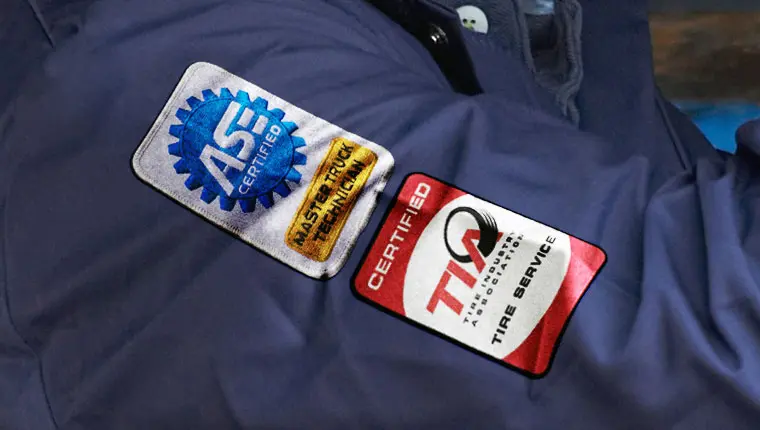 When it comes to reliable repair services, education and experience matter.
Emergency Roadside Assistance technicians are dedicated professionals that undergo ongoing training in both standard and new truck repair technology, as well as ASE and TIA certification programs. In total, our technical team has completed more than 100,000 hours of training.
In addition to performing repairs and maintenance daily, many of our technicians compete in internal, state and national technical competitions, earning top awards at each.
The TA Truck Service Emergency Roadside Assistance network also includes an internal technical support team, educated on various trucks, engines and new equipment, available around the clock to advise field technicians on recommended repair practices, preventing a secondary stop at a dealership.
Emergency Roadside Assistance Nationwide Network & Third Party Providers
Get to know our nationwide network.
Operating at over 245 TA Truck Service locations within TA, Petro and TA Express facilities coast-to-coast.
Over 600 fully-equipped Emergency Roadside Assistance service trucks.
GPS tracking and mapping technology installed in all service trucks.
Nearly 3,000 experienced technicians, qualified to handle even the most complex roadside repair.
Voted Best Roadside Assistance Provider.*
*Results based on TA and Petro survey of professional truck drivers.
Qualified Third-Party Providers
In addition to our expansive Emergency Roadside Assistance nationwide network, we carefully select qualified third-party providers to supplement our service. These providers are assessed and dispatched based on a proprietary rating system that examines all key aspects of the repair, ensuring you get the best service provider for your unique situation.
Over 15,000 third-party providers.
Vetted, quality service providers located throughout the continental United States.
Ready to provide a wide scope of service requirements, including towing and proprietary tire brands.
Emergency Roadside Assistance National Call Center
Our highly trained staff is available 24/7/365 1-800-824-7467
The TA Truck Service Emergency Roadside Assistance National Call Center is a 32,000 square foot facility equipped with the latest in call center technology, including monitors displaying real time views of phone queues and agent metrics.

Our agents undergo more than 100 hours of onboarding along with ongoing training to prepare them to provide the quick, accurate and courteous service that you expect – from the first ring of the phone to when your truck is back up and rolling. Their goal is for the technician to arrive on site with the knowledge, tools and equipment to complete your repair.
Our agents are experts at:
Utilizing custom designed software for scheduling and real-time status updates.
Tracking all critical aspects of the repair.
Ensuring drivers and fleets are updated during each step of the breakdown repair process until the driver is rolling.
Taking proactive steps to mitigate issues and maximize downtime.
Dispatching not just the closest service truck, but the best qualified service provider for the repair.
Quick responses for the best roll time possible.